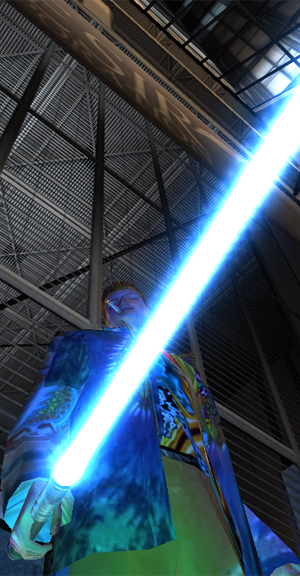 Just call me zeph, as I do not really know who I am. But you ... have you ever been to the movies? Then you'll know my face. It's Jimmy Dean's—complete with cigarette danglin' from my lips. Uhm, well, I know, not very likely in a 21st Century PC Game ... pun intended. My jacket and T seem to be designed by Jimi Hendrix himself.

↑

American Graffiti. Which reminds me of the lightsaber in my pocket. All in all I just feel like ... the spirit of the movies. And comic books. Like the manifest metaphysics of pop-culture. I'm a

↵

new god, a superhero. Now the stage is bare, and I'm standing there with ... emptiness all around. Kinda emptiness. The interface not only shows me my Self (The Jimmy-Dean-surgery is very well done, kudos to the HairlessWookie), but also the metal-detectors, guarding the

↑

entrance hall of Aesir-Corporation's skyscraper ... Through the enormous glass-panes I can see the nightsky outside. It is of a depressing grey. Not quite the colour of a television set tuned to a dead channel—but close. I am too tired to push on, so I jack out.